I have been so sick the past 3 days, but today I am finally starting to feel a little better! I'm so sick of winter, I just want this snow to go away so I can get out my flip flops, tank tops and sundresses! Hopefully in the next month. But while I have my mind set on nice weather, I decided to look up some ideas for our front porch. It's an indoor porch, and right now it has a black carpet and some white walls that are in need of some new paint. I can't wait to fix this baby up! It might not be fully done this summer since we have a never ending list of other things to do, but we can see how far we get 🙂
Take a look at some fun ideas I found to decorate it, and let me know what you all think!
Our porch doesn't get tons of sunlight because of surrounding trees, so keeping it bright with light colors would be a great idea, like these 2 below. Also, since our house is blue I think this first picture would be amazing.
I love wicker chairs and seats like this. They look amazing in white and dark colors, and go well with any kind of table.
We love green, so getting simple chairs and a table with some green cushions would look awesome.
Source of porch photos
I love these lights. I would totally get some of these and hang them!
Where To Buy Furniture:
If you're budget isn't tight, Pottery Barn and Restoration Hardware would be my top 2 choices for outdoor furniture.
One of my favorite picks from Pottery Barn is their Chesapeake Rectangular Extending Dining Table. I love the wood and the chairs mixed with the bench seating.
Pottery Barn's Outdoor Furniture Collections
_____________________
Ugh. Restoration Hardware is my favorite. I love looking at their new catalogs drooling over what I want. Their outdoor patio furniture is just amazing. Here's a taste of what I love: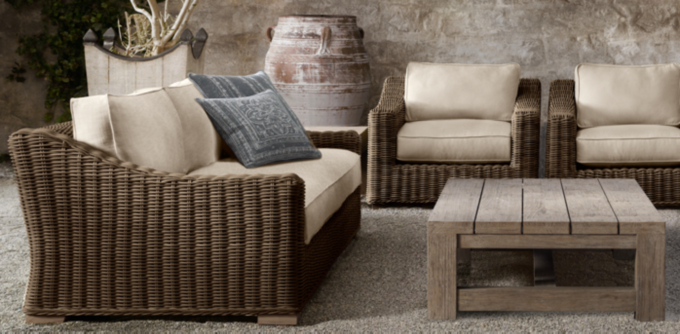 Take a look at their outdoor furniture collections
_____________________
I think lights like this on a porch or patio would look amazing: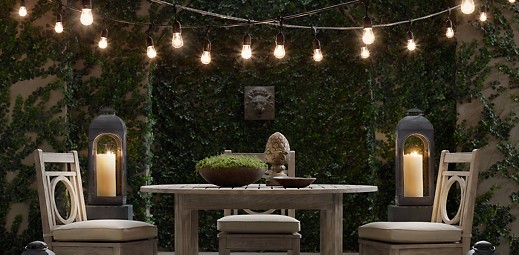 Check out their outdoor lighting, too.
_____________________
If your budget is tight or you just don't want to spend a lot, I would look into Home Goods or Target. Target has some greats prices for tables, umbrellas, chairs and lights. Home Goods has some awesome outdoors furniture too. Just go quick before it's all gone!
Check this out from Target. A pretty affordable wicker dining collection:
Hope you found this guide helpful and that it gave you some ideas! Keep thinking summer!