It's finally SUMMER! I know I'm a few weeks late announcing that one, but now that the weather here in NY finally feels like Summer, I thought I'd do a beachy post.
As you know, I've got a pretty big artistic side to myself. It's now evolved into using the computer for my work mostly, but I used to paint ALL THE TIME. And I miss it. And I have a few blank canvases that need paint on them. If you're a painter yourself you know that bigger canvases cost lots of moolah, so I can't let them go to waste any longer!
I really want to paint a beach scene to hang in the house somewhere. Probably the master bedroom. Something bright, interesting and eye catching.
I looked up some ideas on different beach paintings for inspiration, check out what I found:
This next one is just amazing to me…great job to the artist!
Ok, this one is obviously not a beach scene but I LOVE it. Simplicity is sometimes just the best.
Abstract beach scenery anyone?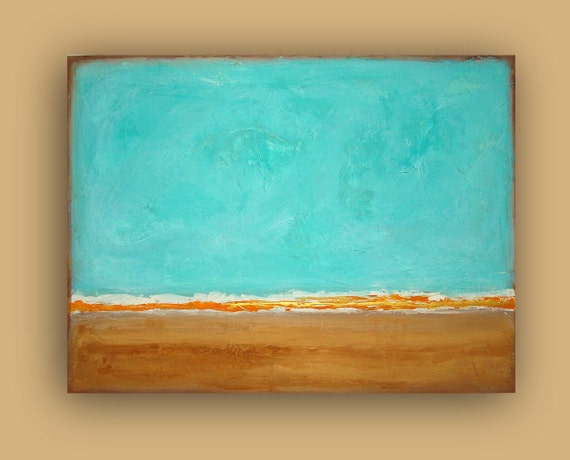 The colors in this. Are you kidding? For reals amazing.
Source Not Found
What do you think?
Do you like the abstract take on beach paintings or is realism more your style?
I like them all!
I'll be sure to show you what I eventually do 🙂